Players Spotlight
Want to share an accomplishment of a player/team?
Share the accomplishment of home runs, teamwork, volunteering in the community, etc.

Send an email to crcllbb@gmail.com to have it posted on our Facebook site!

---
A BIG CONGRATULATIONS TO CRALL
TO OUR NEIGHBORS, OUR FRIENDS AND OUR COMPETITION, WE ARE SO PROUD OF ALL YOU ACCOMPLISHED AT THE LLWS. EACH OF YOUR PLAYERS, FANS AND COACHES SHOWED THE WORLD THAT WAS WATCHING HOW TO FALL IN LOVE WITH THE GAME OF BASEBALL. WE ARE BIG FANS AND CAN'T WAIT TO HEAR YOUR STORIES!CONGRATULATIONS FROM YOUR CARDINAL FAMILY.
WOW - WHAT A RIDE AT THE LITTLE LEAGUE WORLD SERIES!
​
GO MIDWEST!!
---
2019 All Star Teams
12 Year Olds Manager: Rocky Otte Assistants: Mike George, Jimmy Burnette
Matthew B.
Jerry W.
Kjell N.
Danny S.
Nick C.
Rhys G.
Connor H.
Jeremy O.
Colin P.
Taigan P.
Seth B.
Ethan B.
Dylan B.
---
11 Year Olds Manager: Shawn Caron Assistants: Mike Trymucha, Jeff Sletten
Zach B.
Kieren W.
Price C.
Caden T.
Cameron J.
Landon D.
Jake S.
Andrew C.
Rourick G.
Shawn S.
Joel K.
Landon B.
Riley A.
---
10 Year Olds Manager: Mike McCauley Assistants: Trevor Olson, TBD
Carsten B.
Michael C.
Jack C.
Isaiah F.
Brayden H.
Carter H.
Isaac K.
Brady L.
Hayden M.
Pacey O.
Jaxson O.
Colin R.
Tanner W.
---
9 Year Olds Manager: Curtis Larson Assistants: Tim Matsche, Zach Contreras
Sebastian C.
Gavin H.
Truman S.
Tyrique P.
Ben K.
Everett L.
Brady T.
Camden L.
Rusty M.
Brian P.
Alex S.
Preston V.
Jude D.
---
8 Year Olds Manager: Jason Rodrigues Assistants: Jeremey Johnson, Ron Conner
James D.
Hayden H.
Nolyn H.
Julian H.
Owen A.
Addie L.
Ivan C.
Bruce B.
Parker H.
Ashton A.
Jaxson R.
Cole Z.
Raiden C.
Congratulations!
GO CARDINALS!
---
WAY TO GO ISAIAH!
Isaiah from the AAA Cardinals put one over the Fence on Field 2, Monday May 6, 2019
VISIT OUR FACEBOOK PAGE
FOR LOTS MORE HOME RUN HITTERS!!!
---
Coon Rapids Cardinal Little League was able to make a support donation to the Coon Rapids Girls Basketball Team.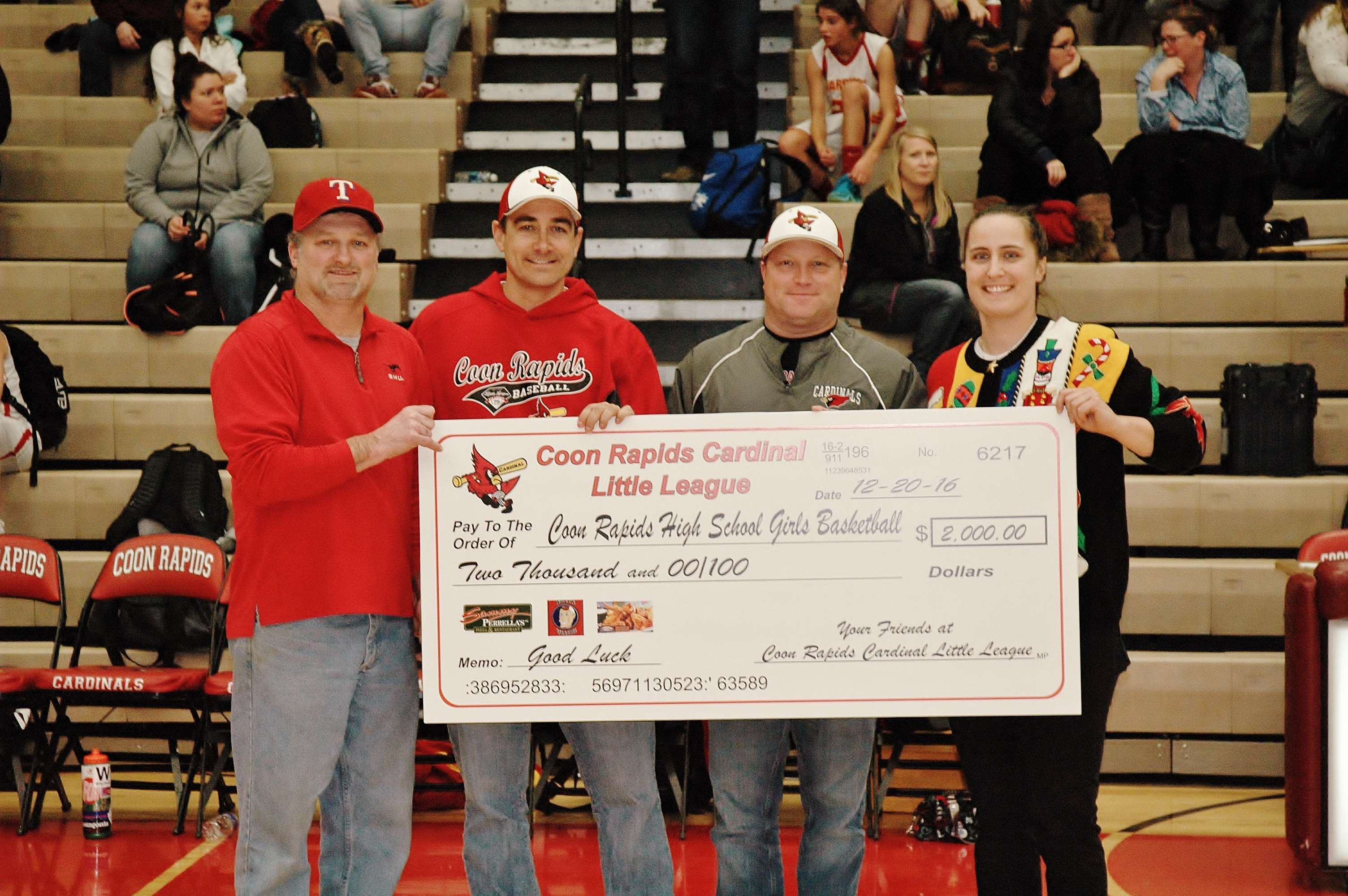 In the picture with Brian (President of CRCLL) and Jason (VP of CRCLL) is John Hagstrom and Girls Head Basketball Coach Deb Peterson. John Hagstrom has been a vital part of our organization in the past and is recognized on our "Outstanding Service" board. The girls basketball team has 2 former Coon Rapids Cardinal Little League players, Caitlyn Hagstrom and Kennedy Kehr. Thank you for all you have done for our league. Congratulations, and have a great season! GO CARDINALS!