WELCOME
---


COON RAPIDS CARDINAL NEWS
---
DICK'S SHOPPING WEEKEND, TODAY & TOMORROW !!
(March 23rd & 24th)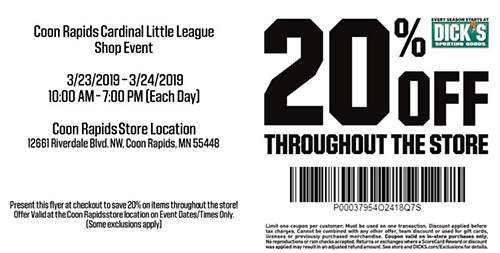 ​
​
​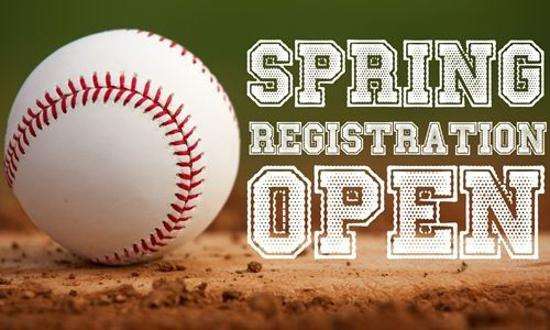 Register for the Spring 2019 season!
Follow the link to register. https://active.leagueone.com/Olr/Pages/Welcome.aspx?ClubId=13161
---
APPAREL ONLINE STORE NOW OPEN.
Click the button below to visit the store and place your order.
Orders must be placed by 11:00 pm on March 29th.
Orders can be picked up on Saturday, April 13th @ 11:00 am to 1:00 pm at the Riverview Park warming house.
---
Winter Ball is in session
https://active.leagueone.com/Olr/Pages/Welcome.aspx?ClubId=13161
Sessions will be held Sunday evenings through March.
5:00 pm to 6:00 pm for 8 - 10 year old
6:00 pm to 7:00 pm for 11-12 year
old
---
---
CRCLL SPONSORSHIP

DO YOU OWN A BUSINESS OR WORK FOR A COMPANY
THAT WOULD LIKE TO INCREASE LOCAL-COMMUNITY PRESENCE?
CONSIDER SPONSORING CRCLL
EMAIL FUNDRAISING DIRECTOR AMANDA OLDRE
FOR DETAILS.
---
LINK TO LITTLE LEAGUE BAT INFO
AND APPROVED 2019 BAT LIST
http://www.littleleague.org/learn/equipment/baseballbatinfo.htm
---
HIGHLIGHTS OF 2019 BAT STANDARD
*Must have USA BAT MARK
*2-5/8" Barrel Size
*2 -1/4" Barrel Size with USA bat mark
*No Drop Weight
*Multi-Piece wood and other material bat's require USA bat mark
*One-piece wood bat does not require mark
---
AS A REMINDER:

E-mails from Coon Rapids Cardinal Little League will come from
No-Reply@leagueone.com OR CRCLLBB@GMAIL.COM
CLICK HERE TO CONTACT US TODAY!
---
RAINOUT HOTLINE: 651-695-2000
---